Oxford Mayor Tannehill highlights US-China delegation visit
Published 5:45 pm Thursday, November 16, 2023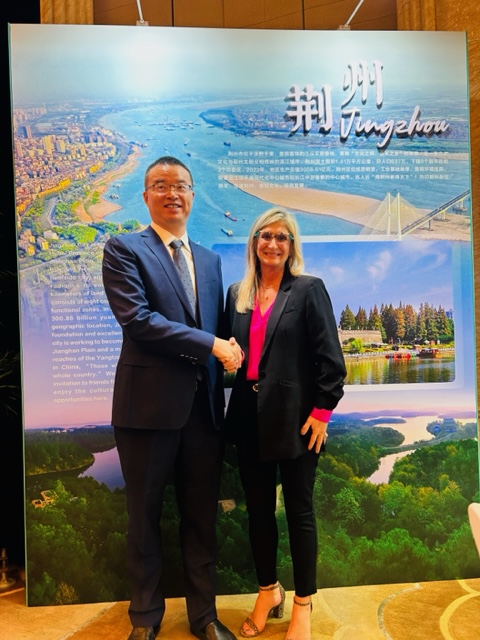 On Oct. 27, Oxford Mayor Robyn Tannehill participated in a delegation to China as part of the US-Heartland China Association's Mayors Delegation, focusing on fostering city-to-city exchanges and collaborations. The delegation, the first U.S. group to visit Wuhan since the pandemic, also included visits to Hong Kong, Nanjing, Suzhou and Shanghai.
Joining Tannehill were mayors Jim Brainard of Carmel, Ind.; Barbara Buffaloe of Columbia, Mo.; Lee Harris of Shelby County, Tenn.; Chokwe Lumumba of Jackson; and Kim Norton of Rochester, Minn. The trip aimed to enhance cooperation in energy transition, climate mitigation and the green economy.
Consul General Zhang Jianmin of the People's Republic of China and his wife, Zheng Xin, welcomed the group to their home in San Francisco. During a memorable interaction, Consul General Zhang acknowledged Oxford's literary heritage, mentioning "the home of Nobel-prize winning author William Faulkner and Yoknapatawpha" and indicated he had taken time to learn about each delegate when he remarked to Mayor Tannehill, "as you say often, mayor, we are stronger together."
A surprising and delightful moment occurred when a delegation member's casual mention of ping pong skills led to an impromptu ping pong match, revealing the superior skills of their Chinese hosts.
After arriving in Hong Kong following a 16-hour flight, the delegation's first full day started at Hong Kong University (HKU) on Oct. 30. Tannehill was intrigued by the extensive use of bamboo scaffolding in construction, a contrast to the metal scaffolding we see in the United States.
A presentation by Professor Becky Loo about "15-minute neighborhoods" particularly resonated with Tannehill, as it aligned with Oxford's urban development. "It was exciting to hear Professor Loo promote the implementation of zoning to encourage mixed-use development because Oxford has been doing this for at least the last seven years," Tannehill noted.
"In Oxford – as the rest of the United States – we have long built communities for vehicles, not pedestrians. As we now know, creating environments that focus on walking and cycling are critical for future development," said Mayor Tannehill.
The group attended a  lunch that afternoon with Chinese hosts, discussing community service, followed by a visit to Cyberport. There, US Consul General Gregory May and Deputy Senior Commercial Officer Paul Frost updated the group on US-Hong Kong relations. The tour showcased Cyberport's role as a hub for technology and digital innovation, with presentations from various Hong Kong businesses offering insights into technological advancements applicable to community development.
On Oct. 31, the delegation attended the Hubei-Middle America Mayors Roundtable in Wuhan, among the first to visit from the U.S. since the pandemic began. Also in attendance were 12 mayors from different cities in Hubei province. "I am amazed still by the incredible density that exists across China. Oxford is the size of a neighborhood in most of the cities we visited with and met with during this roundtable discussion," Tannehill said.
Tannehill went on to emphasize the shared goals among the mayors, "there was the common theme between U.S. and Chinese Mayors – we all want to leave our communities better than we found them, put programs in place to address the effects of climate change in our communities, and find ways to build bridges and friendship with a country that is our greatest global partner."
The delegation's itinerary also included visits to significant cultural sites like the Yellow Crane Tower and Wuhan University, where Tannehill engaged with students eager to study in America. She underscored the need for a stable U.S.-China relationship, stating, "To desire to build relationship doesn't mean we don't acknowledge the complex and challenging nature of the U.S.–China relationship. It just means thoughtful and purposeful dialogue is needed."
This delegation visit marks a significant step in building subnational ties and exploring collaborative opportunities that could benefit communities like Oxford.